Current News
Contributions
Our community is still in critical need of assistance due to the impact of the Coronavirus resulting in lay-offs and reduced work schedules. In lieu of donating food at this time, if you are able to assist with a monetary contribution, please remit your check payable to All Saints SVdP by mailing it to The Society of St. Vincent de Paul, All Saints Catholic Church, 2443 Mount Vernon Rd., Dunwoody, GA 30338 or by dropping it off at the All Saints Parish Office. We greatly appreciate your generosity.
Request Hotline
Most importantly, St. Vincent de Paul is here to support our parishioners and neighbors in need. If you require assistance at this time, please call our hotline at 770-512-7476, leave a message and you will be contacted by one of our volunteers.
---
St. Vincent de Paul Volunteer Information
Evelyn Collazo, Co-president
Janice Ward, Co-president
email
Our members are involved with trying to follow our Lord's dictate to feed the hungry, clothe the naked, give drink to the thirsty, care for the ill, visit the sick, soothe the unhappy and restore peace to the troubled soul. We do this primarily by visiting the needy in their homes. We meet as a group on the first Thursday of each month at 7:00pm. During the month we visit people whenever they need help.
SVdP Did You Know…..
…..that you can take your clothes, shoes, household goods, books, etc. directly to the SVdP Thrift Store?? The Thrift Store is located across the street from Chamblee City Hall at 5463 Peachtree Road and is opened M-Sat, 10am-6pm.
….that you can schedule a pick-up of your heavy furniture, TVs and appliances that you want to donate?? Contact: Linda Gurrant, Truck Scheduling, 678-892-6162, lgurrant@svdpgeorgia.org to schedule a pick up. SORRY, we cannot take mattresses.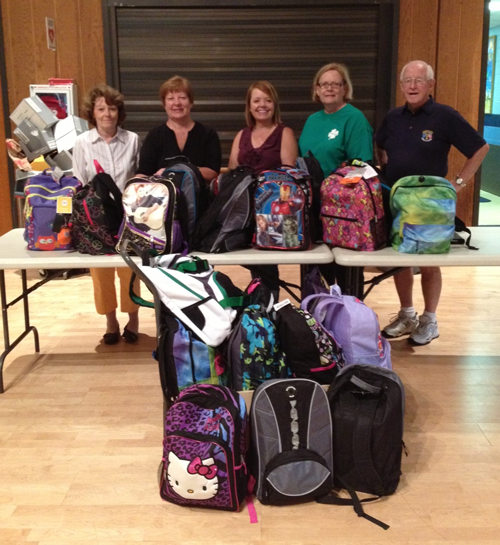 Thank You letter to our All Saints SVdP Conference from a past SVdP client.