Hope for the Hungry
Provide hope for the hungry by participating in the annual All Saints St. Vincent de Paul Food Drive this weekend – March 19-20, 2022.
Contact: Evelyn Collazo & Janice Ward at email
Food insecurity continues to impact Dunwoody neighbors facing the challenge of prioritizing basic needs such as food, shelter, clothing and healthcare during these uncertain times. Your contributions replenish the SVdP Food Pantry serving Dunwoody and Dekalb County.
Please purchase items in non-breakable containers to ensure donated food makes it to the tables of those in need; glass containers often break in transport and create a safety hazard. All food items are essential and appreciated, however the greatest need is canned meat, canned vegetables and canned pasta, as well as household items.
| | |
| --- | --- |
| Essential Foods | Essential Household Items |
| Canned green beans, canned tomatoes, canned vegetables | Hygiene products: soap, shampoo, conditioner, deodorant, lotion |
| Pasta Sauce (plastic or can) | Shave cream |
| Canned fruit (individual servings) | Sanitary pads/tampons |
| Canned chicken, tuna, Vienna sausage, chili, or beef stew | Diapers – #4, 5, or 6 as well as baby wipes |
| Soups | Paper Towels |
| Cereal and Granola Bars | Laundry Detergent |
| Chef Boyardee SpaghettiOs and other prepared canned pasta meals | Dish Detergent |
| Rice, pasta, dried beans | Bathroom tissue |
| Mac & cheese, mashed potatoes | Napkins |
| Cooking Oil | |
| Coffee | |
| Crackers | |
Convenient & Safe Drive Thru Drop Off
St. Vincent de Paul will continue to use our convenient Drive Thru Drop Off providing a safe environment to make your donation:
Enter All Saints Catholic Church and continue in your vehicle to the lower drive towards the Scout Hut/Kiernan Hall.
There is no need to exit your car, approach the donation station and a Vincentian volunteer will remove the donated items from your trunk.
Once complete, slowly exit the drive-thru station.
Please, no food drop-offs outside of the collection hours or in the back of the church
Drop Off Location and Hours
All Saints Catholic Church, 2443 Mount Vernon Road, Dunwoody, GA 30338
Saturday, March 19 from 2:00 p.m. – 6:30 p.m.
Sunday, March 20 from 8:00 a.m. – 6:30 p.m.
---
St. Vincent de Paul continues to handle requests from our parishioners and the Dunwoody community seeking food and financial assistance. Your support is needed now more than ever. Here are other ways you can help as we honor shelter in place orders across Atlanta.
Monthly Contributions
Your monthly contribution is a lifeline to those in need. With the suspension of public masses, we are unable to fulfill our collection the first Sunday of every month. If you are in a position to continue contributions, please remit your check payable to All Saints SVdP by mailing it to The Society of St. Vincent de Paul, All Saints Catholic Church, 2443 Mount Vernon Rd., Dunwoody, GA 30338.
Request Hotline
Most importantly, St. Vincent de Paul is here to support our parishioners and neighbors in need. If you require assistance at this time, please call our hotline at 770-512-7476, leave a message and you will be contacted by one of our volunteers.
St. Vincent de Paul Volunteer Information
Our members are involved with trying to follow our Lord's dictate to feed the hungry, clothe the naked, give drink to the thirsty, care for the ill, visit the sick, soothe the unhappy and restore peace to the troubled soul. We do this primarily by visiting the needy in their homes. We meet as a group on the first Thursday of each month at 7:00pm. During the month we visit people whenever they need help.
SVdP Did You Know…..
…..that you can take your clothes, shoes, household goods, books, etc. directly to the SVdP Thrift Store?? The Thrift Store is located across the street from Chamblee City Hall at 5463 Peachtree Road and is opened M-Sat, 10am-6pm.
….that you can schedule a pick-up of your heavy furniture, TVs and appliances that you want to donate??
Contact: Linda Gurrant, Truck Scheduling, 678-892-6162, lgurrant@svdpgeorgia.org to schedule a pick up. SORRY, we cannot take mattresses.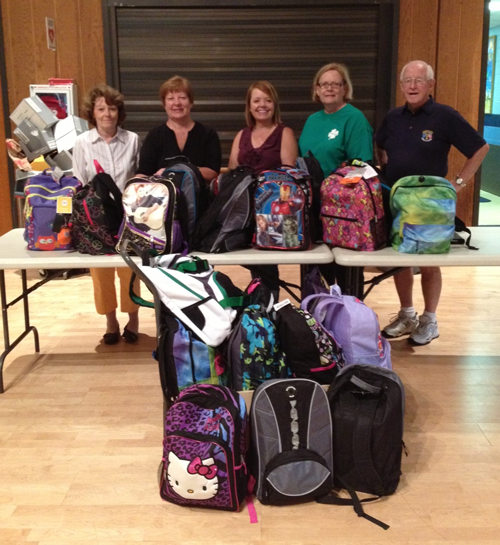 Thank You letter to our All Saints SVdP Conference from a past SVdP client.