Dozie Bowen, 770-393-3255 x19, email
PSR 2018-19 School Year
September 10/11, 2018 – April 22/23, 2019  |  Calendar
Grades Kindergarden – 5 grade and RCIC (Monday 4:45-6 p.m.)
Grades Kindergarden – 5 grade (Tuesday 5:00-6:15 p.m.)
Fee: $90/student or $135 for a family of 2 or more
---
Messages
Thank you to everyone who helped to make our First Confession a special event!
We need a Baby Jesus for the Christmas Pageant on Monday, December 24 for the 4:00pm Children's Mass in the Gym. The baby can be either male or female. Please call Dozie at ext. 19 if you can help with one or both.
Parish School of Religion classes are cancelled Monday & Tuesday, Dec 17 & 18, December 24 & 25 and Dec 31 & Jan 1. Merry Christmas and Happy New Year!
The Children's Christmas Pageant will be celebrated on Monday, December 24 at the 4:00pm Mass in the gym. If you cannot attend that Mass, the Dress Rehearsal for the Pageant is scheduled for Monday, December 10 at 5:30pm in the church.
The Children's Kids Praise Choir will be singing at the 4:00 Christmas Eve Mass.
Thank you to all of our wonderful catechists, especially those who keep coming back: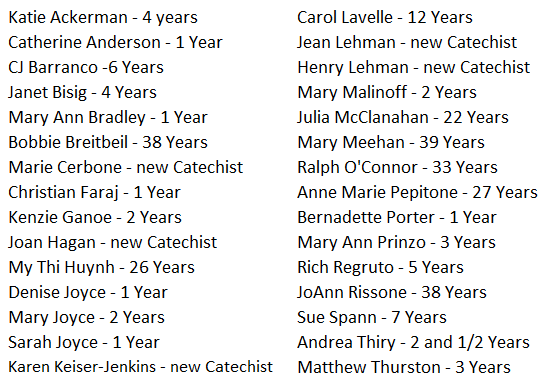 ---
Ongoing PSR Service Projects – please support whichever appeals to you. Collection boxes are in the PSR hallway.
Soda Pull Tabs for the Ronald McDonald House
New or gently used children's books for the Grant Park Clinic
---