All individuals who have completed their First Holy Communion and are of good faith are welcome and encouraged to join the Altar Server Ministry. 
Parents with children interested in becoming an altar server should contact John Nelson for information and to schedule training. We provide training on an annual basis. Please see the Altar Server Training Manual link on the left for information on training and altar server scheduling. 
The goals of the All Saints Altar Server program are as follows: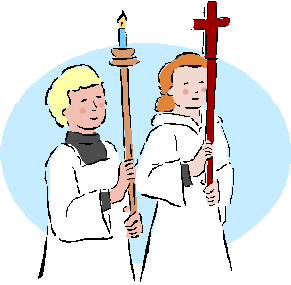 To provide altar servers at all weekend masses and to standardize the number of servers at each mass

To provide adequate training so that servers are successful in their role, and

To develop future Catholic leaders.
Altar Server Council: The Altar Server Council consists of a Lead Coordinator (John Nelson), a Chaplain, a Scheduling, Communications and Mass Coach Coordinator (Nina Weidle), a Training Coordinator (Kelly Powers), and a Social/Service Coordinator (Emily Tamul).
New servers application form: Individuals interested in becoming an altar server are required to complete an application to enroll into the program. 
Service levels: Service levels: Altar servers advance through 5 Service levels: Apprentice, Novice, Skilled, Master, and Guardian. Service level is based on age, grade, and demonstrated competency.
Orientation, training, and assessment process: A new Altar Server Training Manual has been developed and is now available on line. New servers are required to complete this manual as well as a parent guided self-study module, and hands on training session prior to serving.
Annual promotion opportunities and Commissioning Mass: Depending on their age and grade level, servers may be considered for promotion each year. If eligible, promotion candidates must complete additional training and self-study modules pertaining to the rank they are trying to achieve. They will also be observed serving a mass to determine their competency for the next level. Promotions will be granted during a Commissioning Mass – held annually in November. 
Server recognition activities: Servers will be recognized in a number of ways throughout the year, (e.g. Photos will be placed in the vestibule quarterly; names will be announced at the beginning of mass, various social activities).
Scheduling process using Sign-up Genius: Servers will be assigned to teams of 3 and scheduled (on a rotating basis) to serve at all (non-holiday) weekend masses. A maximum of 6 servers will be permitted to serve at any given mass. Additional servers will sit in the first pew to the left of the altar.
Vestry: Apprentice servers will only wear black cassock (no white surplice) until they are promoted to Novice. Novice Servers will wear a black sash, Skilled Servers wear a red sash, Master Servers will wear a red sash with gold trim, and Guardian Servers will wear a gold sash.
Mass coach: Each weekend Mass is assigned an Altar Server team, each team also has an assigned Mass Coach. This adult individual is there to support and offer feedback to the servers as they perform their server duties. Mass Coaches MUST complete the VIRTUS safe environment training and submit to a background check (good for 5 years) as mandated by the Archdiocese of Atlanta. 
If you have any questions regarding the program, please contact John Nelson.
---
Recent News
Honoring Our Graduating Altar Server
Mary Malinoff has been an altar server for more than ten years. She is thankful for all of the wonderful priests, deacons, and altar servers that she has been blessed to serve with during that time. Mary is the daughter of Bruce and Delina Malinoff, and sister of Levi. She attended Kingsley Elementary School and Peachtree Middle School, and she will graduate from Dunwoody High School on May 24th. Mary performed in the Dunwoody concert band and marching band all four years of high school, and was chosen to be the woodwind captain for her senior year. Mary will attend Kennesaw State University to study digital animation. She hopes to work as a professional animator and to have her own animation studio one day.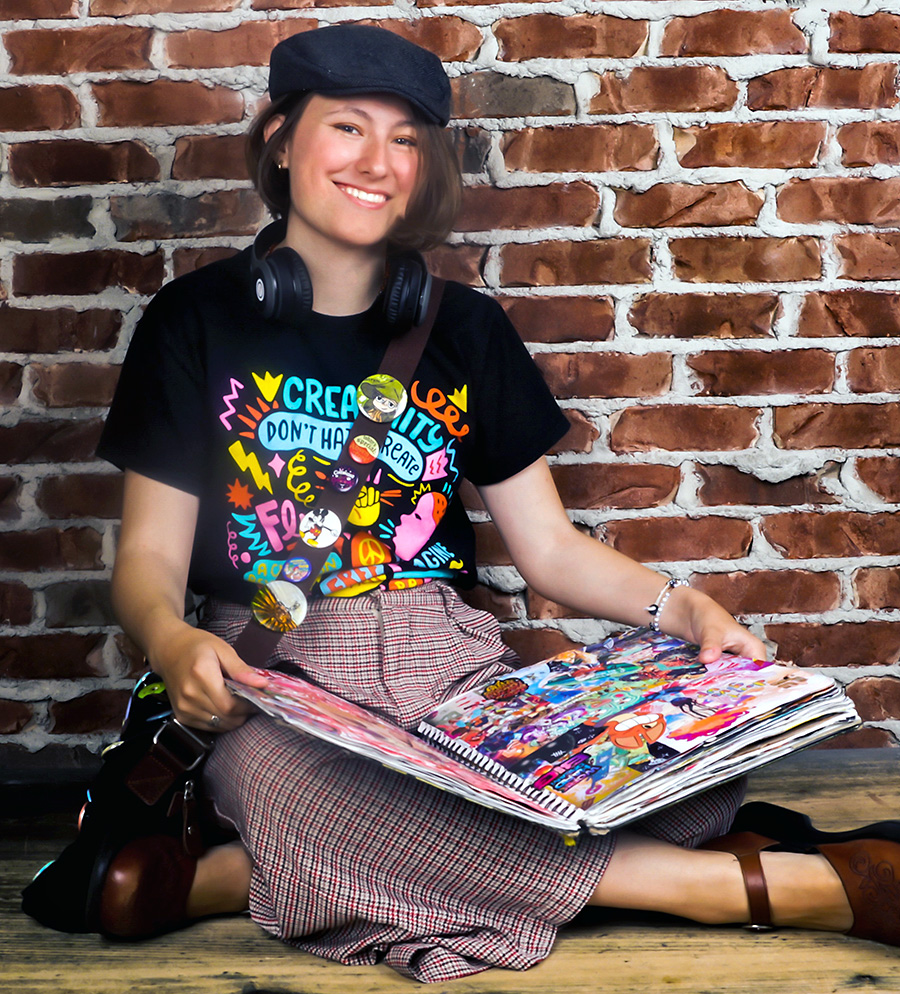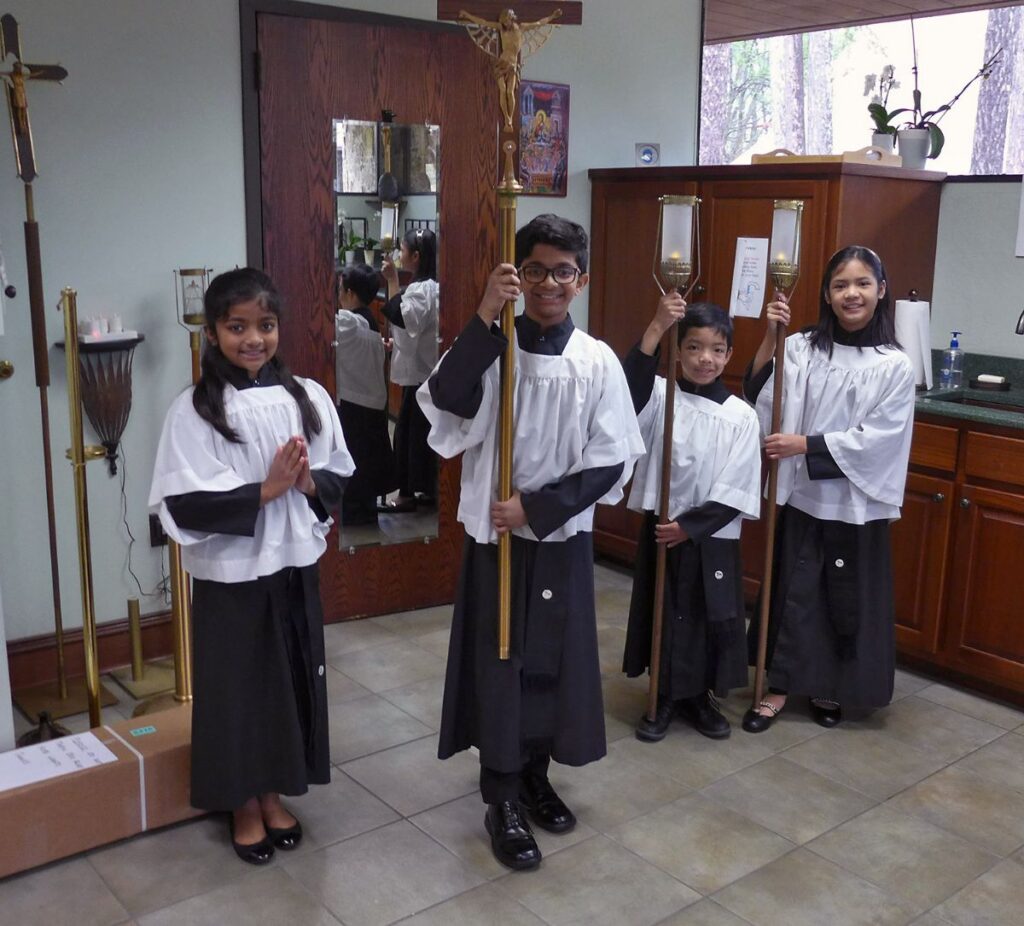 New Altar Servers Commissioned
On Sunday, March 26 the Altar Server Ministry commissioned our four newest altar servers. We congratulate Jude, Rita, Alynna, and Lyle for their hard work and devotion and we look forward to watching them grow in their faith and understanding of the mass. A huge congratulations to the Vacha and Badinas families! We are always looking for new altar servers to join this important ministry.
Annual Holiday Outing
The Altar Server Ministry held its annual holiday break outing at Bowlero on Dec. 30th. The families enjoyed two hours of bowling, pizza, and wings while getting to know each other a little better.
Sandwich Making Project
The week before Thanksgiving a group of All Saints Altar Server families gathered in the Scout Hut to make sandwiches to benefit The Sandwich Project, a local non-profit whose volunteers assemble and donate fresh sandwiches each week to help meet the food scarcity needs in Metro Atlanta. The Altar Server Ministry looks to give our kids the opportunity to serve their community in addition to the parish. Come join us!
Promotion Mass
On November 13th the Altar Server Ministry promoted 9 altar servers and recognized them for their hard work and service to All Saints Parish. Three other servers will have their promotions recognized in the coming weeks. In addition to altar servers not up for promotion this year, we currently have 4 new servers in training and are always looking for more. Come join us!
Picnic Table Project
The Altar Server Ministry here at All Saints is always on the lookout for an opportunity to keep the kids engaged in service to their parish and their community. Especially now that they have not been able to perform their altar service during the pandemic. The servers recently participated in the Picnic Table Project through the City of Dunwoody Economic Development Department. The program engages volunteer groups throughout the city to paint designs on picnic tables that have been placed outside various restaurants to aid in social distancing efforts.
Servers of all ages submitted designs and then cast their vote. The winning design was submitted by Andrew Lyons. Several servers came on consecutive Sundays to complete the Sun/Moon/Stars themed table located at Crema. Stop by and enjoy our table if you can!