All Saints 29th Habitat Home Construction Began July 29th – Volunteers Needed!
Absolutely no experience is necessary! All tools and supervisory instruction are provided along with lunch and plenty of fluids to keep you hydrated. Thank you to those who have already signed up!
There are still several spots remaining on 9/23 (siding and painting) and 10/7 (interior painting). Please consider spending one Saturday to help a deserving family enjoy the opportunity to purchase an affordable home. Minimum age is 16 and you must register online.
Minimum age is 16 and you must register online. The location is an easy ride up 400 to exit 17 and east 7 miles.
We are working with the North Central Georgia Habitat affiliate who recently purchased a large plot of land to create a community of 14 homes. The location is an easy ride up 400 to exit 17 and east 7 miles. All Saints is partnering with a group of sponsors to build the first home in what will be called Pinewood Heights.
Since 1994 this project has been embraced by the All Saints community and the results have been dramatic. You have given 28 families a solid foundation and the ability to prosper in a safe, comfortable and most importantly, an affordable home. The families we serve are hard working but fall into the category of the working poor with average incomes under $35,000. For these families the opportunity for affordable housing would be impossible without your support.
---
28th Habitat for Humanity Home Dedication
All Saints HFH home dedication took place on December 18, 2022. A heartfelt thank you for the generosity of the All Saints parishioners for keeping this legacy alive for 28 years. Patrick and his sons Joshua and Jesse were the hardest working family we have ever worked with and the excitement of moving into their new home in time for Christmas is clear when you look at the photos.
As Patrick said, "This is the greatest blessing we have ever received." Be sure to check out the photo board and the plaque presented to All Saints by HFH North Central GA in the Narthex this weekend.
Meet The Homebuyer!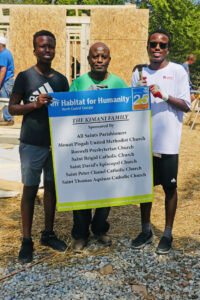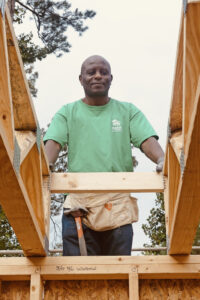 Patrick Kimani grew up in Kenya and became a naturalized citizen of the United States in 2013. Patrick has two sons, Jesse is a senior in High School and Joshua is in middle school.
Patrick has worked for Walmart for fifteen years and the family lives in a one bedroom apartment in Sandy Springs. Patrick has always dreamed of owning a home and this ecumenical build sponsored by Habitat for Humanity North Central Georgia will give the Kimani family the opportunity of affordable home ownership.