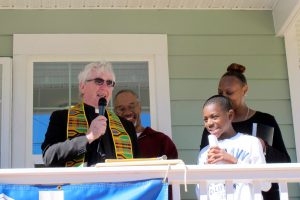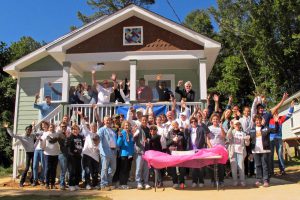 NEW – our Habitat House #25 has a GoFundMe page! 
You have changed the lives of 24 families by giving them their only chance of home ownership. Your financial contribution and volunteer hours make the dream of home ownership affordable to the working poor of Atlanta.
House #25 Planning is in Process:
Fundraising: Collected as of 9/9: $54,447 of $58,000
Once again, the goal is $58,000 as that is required for All Saints to be a sole HFH sponsor. It will take participation by the entire community to succeed.
Additional brochures outlining our past success and various timelines for this year's build and donation envelopes are located at the Church doors. Please consider being a part of this parish community effort by donating whatever is affordable for your family. Please make checks payable to "All Saints Habitat Project". It is always a struggle to meet the goal but we do seem to squeak by each year. 23% of the parishioners contribute and if you have not been able to participate previously please consider helping us this year.
Volunteers:
We are required to provide 40 volunteers for each of the 8 build days. This is the area where we have fallen short in the past. We are asking for your time on one Saturday, during the eight day build, and you may want to consider organizing a small group of friends or co-workers. It is also a great way for the youth to earn service hours. Absolutely no skills required! There is a job for everyone and you can choose the function most comfortable for you. This is not an exclusive All Saints project, all are welcome.
Please signup online at www.allsaints.atlantahabitat.volunteerhub.com or contact Jane & Mike will at 770-446-7674, janemwill@gmail.com, mwill@ramgroup.net.
Construction Dates:
Day 1 will begin on August 25th, (no build on Labor Day weekend), and continue for seven additional Saturdays through dedication day on October 20th.  Please consider giving us one Saturday and celebrate our 25th Anniversary with your fellow parishioners on site.
Lunch Providers Needed:
We are in need of day lunch sponsors, so if you have or know of a group who would be of interest, please call Jane or Mike at our contact information below.
T-Shirt Sponsors:
Every volunteer working on the project receives a T-shirt commemorating the build. Sponsorship with your logo or message is $150 which helps recover the cost of shirt production. It is a great way to participate so if you are interested please e-mail Anita Augello, habitatshirts@allsaintsdunwoody.org.
As you can see there are a lot of moving parts to this project so please consider being part of the Habitat Ministries success in any way you can. God bless this parish for the support and hard work you have invested through the years.
Mike and Jane Will
770-446-7674
---
T-SHIRT SPONSORS NEEDED
IT'S A BANNER YEAR!!!  All Saints is getting ready to build its 25th Habitat House.  This is a tremendous accomplishment but it will not be possible without the hard work and dedication of many people.  So I am once again in the process of pleading for sponsorships for these great T-shirts.  (I understand some shirts have become collector items!)
Last year we met our goal of 24 sponsors. That was a tremendous financial help to the program.  Also the hard volunteer workers greatly appreciated the T-shirts.
THIS YEAR CAN WE MAKE IT 25 TO CELEBRATE OUR SILVER ANNIVERSARY!!!          
I think we can. I think we can! I know we can!
For those of you who are not aware of this program let me mention that a T-shirt ((with all the sponsors' Logos printed on back) is given to every volunteer for their day's work as they physically help build the house.  We average about 40-45 Volunteers each work day and we build for approximately 9 weeks.  That is a lot of advertising coverage.  And the T-shirts are truly appreciated.  As a sponsor you will also receive 2 T-shirts for your generosity.
But like I have always mentioned in the past, this isn't just about advertising.  It is about helping a family achieve the American dream of home ownership.  And this is a way you can help.  Please join this year's team and be a part of our Silver Anniversary 25th Habitat build.
Sponsorship is $150.00 and funds must be raised by early August.  Email me at with any questions about LOGOs and checks. However in order to secure a space on the T-shirt I need to know ASAP.  Checks in the amount of $150 should be made out to All Saints Habitat House #25.
Please join our effort for our Silver Anniversary  25th Habitat House and be a sponsor.  It will be greatly appreciated by many.
Sincerely,
Anita Augello
T-shirt Sponsor Coordinator