All Saints Habitat for Humanity Project 2017
Thanks to your continued dedication and support of our Habitat for Humanity project we dedicated our 23rd home on October 23, 2016. It was quite an emotional day for our homebuyer, Tawanna Hardnett and her 10 year old son K'hari. After Tawanna expressed her appreciation to the volunteers K'hari asked to speak and in his own words:
"I always had a dream that I knew was unattainable, and that was to have a home with a back yard I could play in. But then you came along and my dream really did come true. And then you built this house in seven days, wow, that is crazy, Thank You."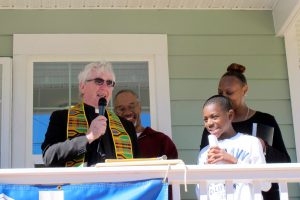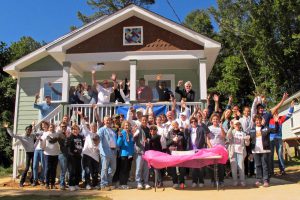 By the time we begin our 24th HFH home this fall, Tawanna will have completed her required service hours, attended and completed her home training courses and made twelve, on time rental payments on her home. Only then will Tawanna qualify to assume a "0%" interest, 30-year mortgage. You have changed the lives of 23 families by giving them their only chance of home ownership. Your financial contribution and volunteer hours make the dream of home ownership affordable to the working poor of Atlanta.
House #24 Planning is in Process:
Fundraising:
Once again $58,000 is required for All Saints to be a sole HFH sponsor. Brochures outlining our past success and various timelines for this year's build will be mailed the week of June 26th. Fundraising weekend begins July 8th and 9th where volunteers will be at each mass to answer any questions you may have. It is always a struggle to meet the goal but we do seem to squeak by each year. 23% of the parishioners contribute and if you have not been able to participate previously please consider helping us this year.

Volunteers:
This is the area where we have fallen short over the past two years. Last year I was forced to seek groups outside All Saints to fill the shortfall of 90 volunteers over the seven days. Thanks to Georgia Southern Alumni and Kroger for providing over 360 volunteer hours. We are asking for your time on one Saturday, during the eight day build, and you may want to consider organizing a small group of friends or co-workers. It is also a great way for the youth to earn service hours. This is not an exclusive All Saints project, all are welcome. Volunteer sigh up will be at all Masses on August 12th and 13th.

Construction Dates:
Day 1 will begin on August 26th, (no build on Labor Day weekend), and continue for seven additional Saturdays through October 21st. Note: this is the first year the process has gone from a seven to eight-day build.
Lunch Providers Needed:
We have been blessed to have long time lunch sponsors, Jersey Mikes, Chick-fil-a, Galla's Pizza and three All Saints groups, Scout Pack 434, St. Adelaide's Circle and the Knights. There are two additional days we are void of sponsors so if you have or know of a group who would be of interest please call Jane or Mike at our contact information below.
T-Shirt Sponsors:
Every volunteer working on the project receives a T-shirt commemorating the build. Sponsorship with your logo or message is $150 which helps recover the cost of shirt production. It is a great way to participate so if you are interested please e-mail Anita Augello, nycgal338@gmail.com
As you can see there are a lot of moving parts to this project so please consider being part of the Habitat Ministries success in any way you can. God bless this parish for the support and hard work you have invested through the years.
Mike and Jane Will
770-446-7674