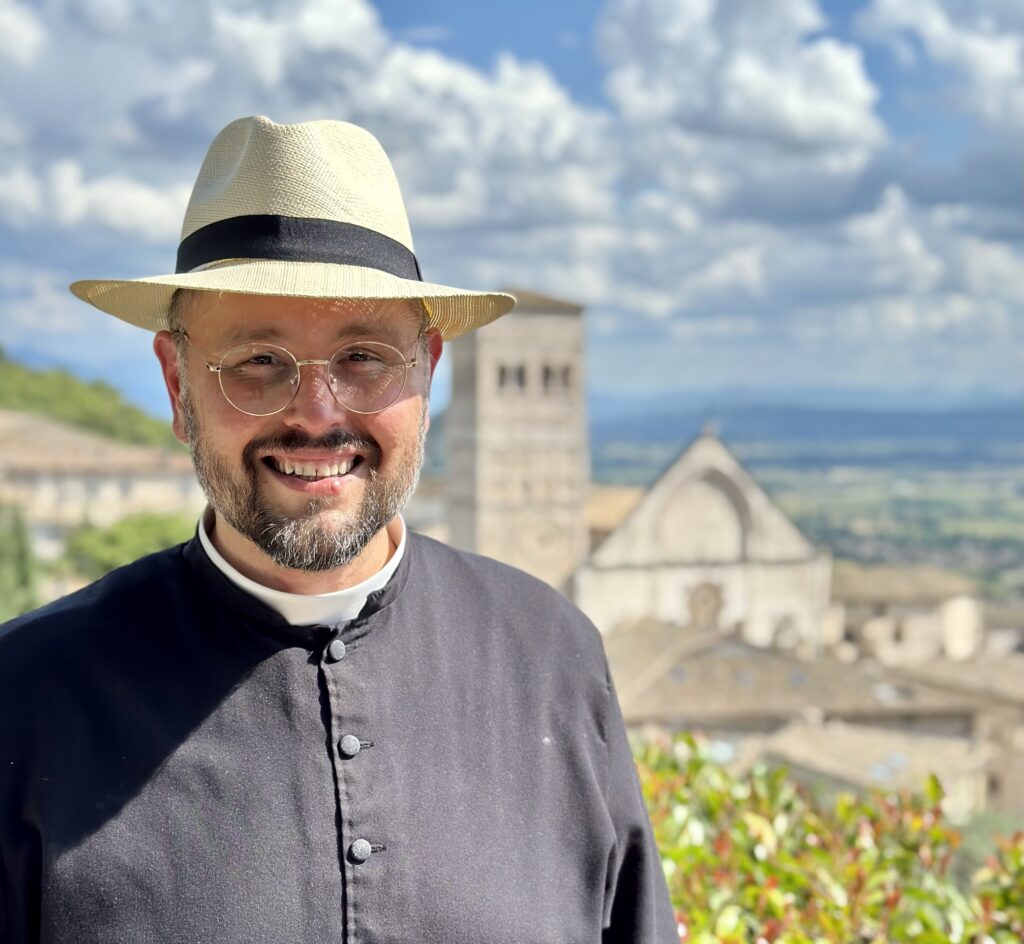 Dear Parishioners of All Saints Catholic Church,

Greetings in the Lord Jesus!

It is a privilege and an honor to be here as your new pastor.  I just returned from a pilgrimage with the parish I'm departing, Christ Our King and Savior, in the footsteps of St. Francis, St. Clare, St. Peter and St. Paul in Italy.  I carried you all in prayer to the tombs of the saints and to the holy sites, asking the Holy Spirit to prepare the way for growth of the Kingdom of God in our time together.  He is faithful!
While I imagine we will have many years to get to know one another, let me briefly introduce myself here.
I'm a New Jersey native, transplanted to the metro Atlanta area in 1993 when my parents' jobs brought our family a new opportunity. My formative years were spent in Peachtree City, playing saxophone in the marching band, fishing the ponds with friends, and working at Publix and then the local regional airport washing planes for the flight school. At the time, the plan I had for my life was to be a pilot, to serve my country, and to raise a Catholic family, getting to Heaven and taking as many along with me as I could. But the Lord's ways are so high above our own!
Two congenital medical conditions prevented me from pursuing a military aviation career, but in the let-down of that closed door, the Lord opened wide another, the priesthood. I transferred out of UGA where I started college to Franciscan University of Steubenville, earning a BA in Theology, and was then sent to Rome to receive priestly formation and education. By the grace of God, I was ordained a priest of Jesus Christ on June 26, 2010, making this year my 13th anniversary of ordination. Being a priest has been the absolute joy of my life!
After a brief year and a half at the Cathedral, then-Archbishop Gregory sent me to be chaplain of St. Pius X Catholic High School. While there, I spent a good deal of time here at All Saints with your excellent youth ministry and the events created by your partnership with Life Teen. Five and half years later, the Archbishop entrusted me to pastor a parish, Christ Our King and Savior in Greensboro. It'll be 5 years to the day that I was blessed to call that parish home before taking up a new roll assigning me to you, and I look forward to what Our Good Lord has in store for the years to come.
May all the Saints gathered around the Heavenly Throne intercede for us in this time of transition. In particular, I entrust us all to the maternal love of the Blessed Mother, to St. Joseph, Sts. Francis and Clare, St. John Paul II, Bl. Carlo Acutis, Bl. Chiara Luce. All you Holy Saints of God, pray for us!
Peace in Christ,
Fr. Michael Silloway