IMPORTANT ANNOUNCEMENT
Due to lack of sales, we are cancelling the benefit Mardi Gras concert that had been scheduled for this Saturday February 22.
If you would still like to help us raise funds for the passenger van for the Sisters of Charity, Gift of Grace House, please go to: https://all-saints-knights-of-columbus.square.site and select individual ticket for a $20 donation or any other increment of $20 you'd like to contribute.
Please contact marytrantow@gmail.com for any questions you may have.
Thank you.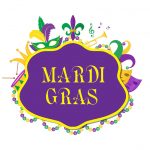 ---
Upcoming Concert (CANCELLED):
Join us on Saturday, February 22nd for the 2nd annual Mardi Gras Benefit Concert, a Chastain-style event hosted in the All Saints "Musicnasium" (aka our spectacular concert venue, the gym!). Doors open at 6pm. Concert starts at 7pm and goes until 9:30pm. Buy a table and bring your food, beverage and friends and enjoy a great band. There will be a prize for best Mardi Gras-theme table decor for those who like a little competition!
Tables of 8 are $150, table of 6 is $125, individual tickets are $20 or 2 for $35. Online ticketing will be available soon.
Once again proceeds will benefit the Sisters of Charity Gift of Grace house (St. Mother Teresa's order) who are in need of a passenger van. Help us reach that goal!
For more information contact marytrantow@gmail.com
Previous Concerts:

Halloween Spooktacular Benefit Concert
Thank you to all who donated or came out to host your Halloween Party with us on October 26th. It was a great evening with lots of creative costumes, great tablescapes and fabulous dancing to the awesome sounds of Corporate Therapyrockin' the house – all supporting the Sisters of Charity Gift of Grace House.