Upcoming Concerts: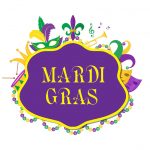 Join us on Saturday, February 22nd for the 2nd annual Mardi Gras Benefit Concert, a Chastain-style event hosted in the All Saints "Musicnasium" (aka our spectacular concert venue, the gym!). Buy a table and bring your food, beverage and friends and enjoy a great band. There will be a prize for best Mardi Gras-theme table decor for those who like a little competition!
Tables of 8 are $150, table of 6 is $125, individual tickets are $20 or 2 for $35. Online ticketing will be available soon.
Once again proceeds will benefit the Sisters of Charity Gift of Grace house (St. Mother Teresa's order) who are in need of a passenger van. Help us reach that goal!
For more information contact marytrantow@gmail.com
Previous Concerts:

Halloween Spooktacular Benefit Concert
Thank you to all who donated or came out to host your Halloween Party with us on October 26th. It was a great evening with lots of creative costumes, great tablescapes and fabulous dancing to the awesome sounds of Corporate Therapyrockin' the house – all supporting the Sisters of Charity Gift of Grace House.