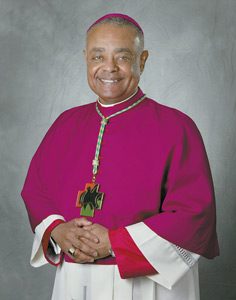 • Archbishop Wilton D. Gregroy responds to current events within our Archdiocese, and around the world.
August 9, 2018, Archbishop Gregory released a statement related to the resignation of Theodore McCarrick from the College of Cardinals and related revelations:  https://vimeo.com/284047544.  A transcript will be released shortly, as will a link to then-Bishop Gregory's 2002 Presidential Address to the United States Conference of Catholic Bishops to which he refers in the statement.
IMMIGRATION:  In response to the current news headlines about immigration, the Archdiocese of Atlanta has made these support materials about Immigrant Rights and current Immigration Law available to us. Please see the "Know Your Rights Card" and information about how to obtain an immigration free evaluation.
Know your rights card – click here for English  |  click here for Spanish
Know your rights law enforcement – click here for English  |  click here for Spanish
Archbishop Gregory's Statement on U.S. Immigration Policy
Archbishop Gregory, local French Catholics react to Paris attacks with concern, faith
Archbishop Gregory's Response to Planned Parenthood
• Archdiocese of Atlanta Pastoral Plan