Free Catholic Content On-Demand
All Saints Catholic Church has a parish subscription so you can access free Catholic faith formation content: https://watch.formed.org/browse
There are books under parenting, practical living, children's and fiction. Audio books include topics on discovering the faith, saints and conversion stories. If it's a movie you're after, you'll find something to watch about saints, popes, and documentaries. Additional featured content is often added.
Here's what your fellow parishioners are saying about FORMED:
"It is invaluable to my overall online self-education about the catholic faith."
"This is an amazing resource for our parishioners, especially those that cannot attend our programs in person…such as elderly, people who often travel for business, and busy moms with young children."
Registering for FORMED is easier than ever:
First time users

should go to allsaintsdunwoody.formed.org, then click "Next."
Register with your name and email address
Check that email account for a link to begin using FORMED
---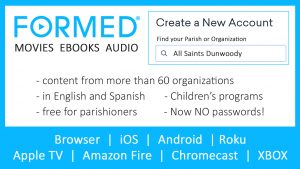 Formed.org has a new and improved site.
FAQs