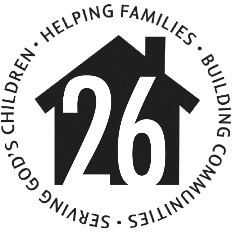 In October of 2018, the All Saints Community reached a significant milestone by dedicating our 25th HFH home in partnership with the Atlanta HFH affiliate. You have reached out to the working poor of Atlanta by creating the opportunity of affordable home ownership thus changing the lives of the families for generations to come.
How you can participate:
T-Shirt Sponsorships FULL
Fundraising
As of August 12, the fundraising effort is off to a great start reaching $32,500. We are closing in on our goal of $58,000. This money offsets the cost of construction and provide the opportunity to secure an affordable mortgage, on a new home, for a deserving and highly-qualified family. This effort will take the support of the entire parish community so please consider being part of this most successful ministry.  Please make checks payable to "All Saints Habitat Project". You may also donate online by going to
www.gofundme.com/allsaintshabitat
Volunteer – Critical need for volunteers on Day 1, August 24th
As of August 15, we need 22 more people to sign up for Day 1. All Saints needs to provide 40 volunteers for each of the 8 Saturday builds August 24-October 19. (NO BUILD DAY ON LABOR DAY WEEKEND 8/31). You must sign up online where you can see all the information for each day including tasks to be completed, location and start time. Lunch, snacks and beverages are provided. Volunteers must be 16 years of age due to insurance requirements. www.allsaints.atlantahabitat.volunteerhub.com If you have any questions you may email Mike at habitat@allsaintsdunwoody.org or call my cell: 404-915-6714.
Please join our effort for this 26th Habitat House build. It will be greatly appreciated by many in more ways than you know.
26 T-shirt Sponsors – FULL
Thank you to our Habitat House #26 T-shirt sponsors for stepping up so quickly. We have met our goal already and appreciate your support!! If you would like to sponsor next year, watch for announcements in mid-July 2020. More help is still needed with monetary donations, volunteers and water left in the hallway near the parish office. God Bless You!