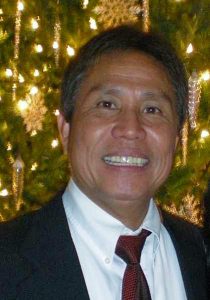 We would like to offer prayers and support to Deacon-in-Formation Hedy Sevilla as his date of ordination approaches. After January 26, he will serve the parish of All Saints Catholic Church. We will host a meet and greet in the social hall on February 2, after the 5pm Mass, AND February 3, after the 10:30am Mass. Please stop by to say hello and help us officially welcome him to our parish.
Ordination Information
The ordination of Hedy Sevilla to the Permanent Diaconate will be held on Saturday, January 26, 2019 at 10:30 AM at the Cathedral of Christ the King located at  2699 Peachtree Rd NE, Atlanta, GA 30305.  All are invited to attend this  special celebration of the sacrament of Holy Order. Seating in the church is by ticket only.
Bio
Hedy Sevilla was born and raised in the Philippines. He and his wife, Cora have been married for 35 years. They have two children, daughter Heidi and son David and four grandchildren. He graduated from St. Francis de Sales Regional College Major Seminary, in Lipa City, Batangas, Philippines with a Bachelor of Arts in Philosophy, minor in Theology and has a Master in Business Administration (MBA) from Adamson Univerity in Manila, Philippines. He's currently pursuing a Master of Arts in Sacred Theology at St. Joseph's College of Maine. Prior to coming to the United States, he was a college instructor in the Religious Studies and Theology departments of Adamson University and De La Salle University, respectively in Manila, Philippines. While in the States, his career has been in the fields of finance and accounting, is presently working for Tailor Brands Inc and had worked for companies such as Bausch & Lomb Inc. as a financial analyst and Champion Products as an accountant in Rochester New York.
His hobbies include reading, playing the guitar, golf, playing and coaching tennis and is a certified USPTR (United States Professional Tennis registry) instructor.
He was an active parishioner of St Jerome Church in Rochester NY, St Benedict's Catholic Church in Johns Creek and St Andrew's Catholic Church in Roswell, before coming to All Saints in 2014. He is involved in several ministries at All Saints and is the spiritual director for the Legion of Mary.
Hedy's calling to be a permanent deacon, to share his faith and a deep desire to serve the Lord is a renewed vocation, having spent eight years in the seminary. He was further inspired by his very close friend and classmate for eight years, Fr. Greg Landicho, who is now a parish priest in the Philippines, and by Monsignor Marren's continuous support and guidance.
He is always reminded of Christ's message when he said, "Amen, amen, I say to you, unless a grain of wheat falls to the ground and dies, it remains just a grain of wheat; but if it dies, it produces much fruit. Whoever loves his life loses it, and whoever hates his life in this world will preserve it for eternal life. Whoever serves me must follow me, and where I am, there also will my servant be. The Father will honor whoever serves me." (John, 12: 24-26)