Congratulations to the 2018 All Saints Altar Server Promotion Class and a special welcome to our newest altar servers! The annual promotion mass was held on Sunday, November 11th at 8:45am and 25 servers were recognized for their hard work in achieving their rank promotions. Three other servers who were not able to attend were to be recognized at a later ceremony in the chapel.
We are always eager to see new faces join the program. If your child has received their First Holy Communion and is age 7-17 we welcome them to join this important and visible ministry. The monthly commitment is minimal, but the dividends last a lifetime as we help develop young Catholic leaders as they serve at the Altar of our Lord Jesus Christ and our parish community.
Find an overview of the program here.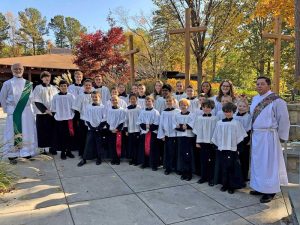 Grace A
Emily B
Vince C
Henry C*
Katelyn D
Victoria D
Josh D
Joshua E
Henry G*
Quinten G
Tess K*
McKenna K*
Henry L
Logan M
Matthew M
Jude M*
Lindsey N
Matthew N
Will O
Ian P
Xavier P
Ellis P*
Morgan P*
Marissa P
Rahul R
Kate R
Vincent R
Mason V
* denotes a new server to the ministry